The Hays Travel Prepaid Travel Money Card is a safe and easy way to take your money on holiday. It's free to use in millions of locations worldwide where Mastercard® Prepaid is accepted when you spend in a currency loaded on the card: including restaurants, bars, and shops.
This easy-to-use pre-paid card allows contactless transactions, chip and PIN, worldwide cash withdrawals, and also 24/7 phone support. Take your currency card with you on every holiday, simply top up and go!
PLUS the Hays Travel Currency Card App enables you to fully manage your travel card account and stay in control of your holiday finances at home and abroad.
The app enables you to:
Instantly top up multiple different currencies from anywhere in the world
Check your real time balance
Lock-in exchange rates when you top up and transfer money between currencies
Keep track of your spending and view transactions
Freeze/Unfreeze your card
Report your card lost or stolen
Check your card PIN
Manage your personal details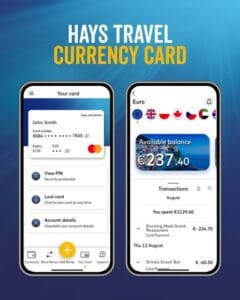 Call into Hays Travel at Cannon Park today to purchase your Hays Travel Prepaid Travel Money Card, or find more information about the Hays Travel Currency Card here.