School's out for summer! Now it's time for fun and frolics with friends and family, ready to embrace the summer like it's 2019.
The stores at Cannon Park have a wide range of products to suit all, from happy campers, to water babies and mini explorers – you certainly aren't short of choice when needing to keep the kids entertained.
Read on to see our top picks to help you create lifelong memories with your loved ones this summer.
Happy Camper
If your mini-me loves being at one with nature, then camping is always a good idea. Sleeping under the stars, cooking over a real fire, watching the sunrise and set is what summer holiday dreams are all about for this little camper.
If you are making it out to the great outdoors or are simply camping in your back garden, be prepared and pack the necessities. This pop-up waterproof two-person tent from Wilko's is a great starting point for setting up camp, perfect for a hassle-free camping experience.
Roasting marshmallows will create a childhood memory of joy. Prepare a fire perfect for such an occasion with Dalby Firewood Charcoal and this compact bucket barbeque, both from Wilko's. Then take these Iceland mega marshmallows, pop them on a skewer and watch them turn golden brown.
Don't forget to wash your hands! Holland & Barrett hand sanitiser gel is perfect for cleaning those grubby little fingers during your camping escapades.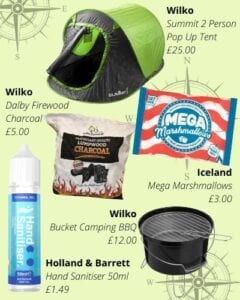 Water Baby
If you're lucky enough to make a trip to the beach, don't forget the essentials for your water babes.
Get them kitted out and ready to hit the waves; F&F Clothing at Tesco has a great range of fashionable kid's swimwear at affordable prices.
Keep the sun out of their eyes with a pair of cool shades. Boots have a wide range of children's sunglasses; we particularly love these gorgeous rainbow framed sunnies.
When playing outside in the water, protect their delicate skin with Holland & Barrett's kid's mineral sunscreen. Its SPF 30 protection and mineral formula make this sunscreen water-resistant and moisturising, giving you peace of mind knowing they are protected all day long.
A good old fashioned water fight always puts a smile on their faces, and if you dare, what about a fun battle – adults vs kids. This water pistol from Wilko's is small but mighty, an ideal water gun for such a battle.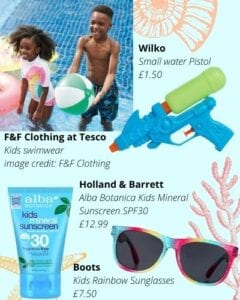 Mini Explorer
All adventure seekers need to keep hydrated throughout the day. We love this Wilko water bottle with its urban print, fitting for any discoverer.
Education doesn't have to stop during the holidays. If you have a mini explorer at home who thrives on learning, pick up a magnifying glass (Boots) and get them exploring mini-beasts they find in the garden.
When out in the wild, keep those pesky bugs away with this anti-mosquito slap-it band (Holland & Barrett). Kids will love wearing this trendy bracelet and won't be bitten by any nasty bugs – win win!
Pop all their exploring essentials in this handy foldaway backpack from Tesco, perfect for lightweight travelling. It has mesh side pockets to store drinks bottles and padded shoulder straps for extra comfort, and when not in use, you can fold it into the internal pocket.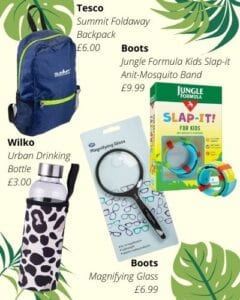 However you spend your summer holidays, we hope you have a great time with your little ones. Want more summer inspiration for the kids? View our Pinterest board here.
Prices correct at the time of publishing.