Gunner Harry Norman Fletcher was born on 13.08.1918 and died 6.12.1993.
During the Second World War he was in the 2nd Searchlight Regiment Royal Artillery. He was taken as a prison of war at Calais during the Dunkirk evacuation.
During his retirement he became the Welfare Officer for the Coventry Royal Artillery where he visited ex-servicemen in their homes to offer help.
In 1995 a replica cannon was installed at Cannon Park, and a request made for an ex-soldier to whom it could be dedicated to for their services to their country.  Harry Fletcher was chosen.
The dedication ceremony took place in August 1995 with the Lord Mayor and a band and flags. The ceremony was attended by many local people.
Unfortunately over time, the cannon carriage (being made of soft wood) became unsustainable, and had to be dismantled.  The plaque was retained by the centre and has now been installed alongside a new war memorial of an oak tree.
The family attended a ceremony for the installation, where Norman Fletcher (son) gave a short speech, great grandson Thomas Ward read a poem, and other great grandchildren revealed the plaque.
The family was joined by Frank Mills who represented the Royal Regiment of Artillery, Coventry Branch.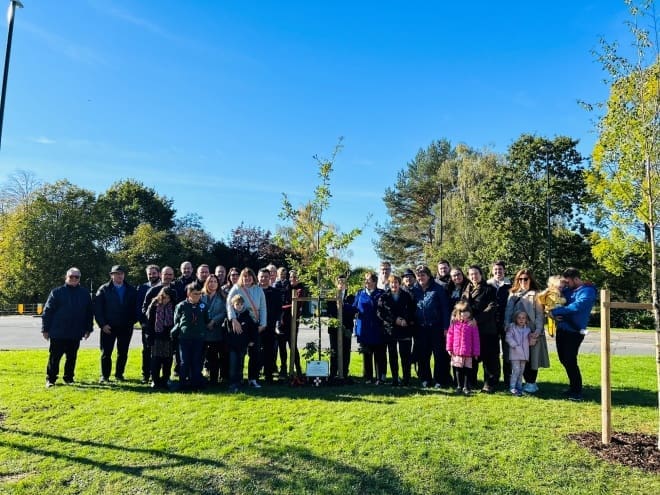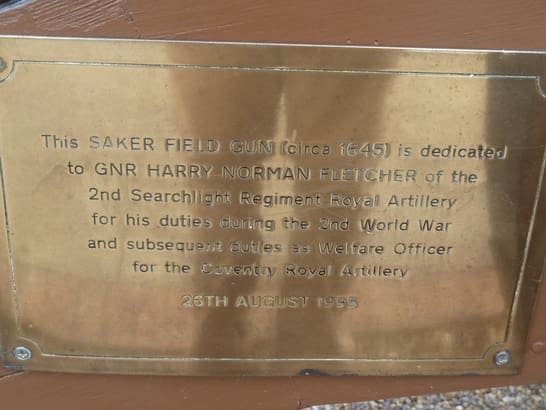 Photo credit: G Pithie