Spring is here which means it's time to freshen up your home and dust away those cobwebs, ready for what we hope will the better side of a rather groundhog year so far!
What better way to start the season than to have a good old fashioned clear out, and our stores here at Cannon Park can help you do just that!  See below for our top picks to get your home and garden spick and span and ready for a fun-filled spring/summer.
Dust away those cobwebs
A bustling family home gets used and abused at times, so give your home a little love – and disinfectant! Method Antibac All-Purpose Cleaner from Holland & Barrett cleans deep down, killing 99.9% of bacteria while leaving a beautiful aroma of wild rhubarb. Iceland's household surface wipes are the right tools for the cleaning job and at £1 per pack, you can't go wrong. So simple, yet effective, and perfect for quickly wiping down tabletops and kitchen sides after a family dinner.
Add some freshness to your rooms with Puressentiel Purifying Air Spray (Holland & Barrett), and you'll create a clean, uplifting atmosphere throughout your home without the use of synthetic chemicals. It's always nice to switch up your laundry detergent now and again to awaken your senses, and we love Surf washing detergent in coconut bliss (available from Iceland), it smells so good that you will think you are on a desert island – if only!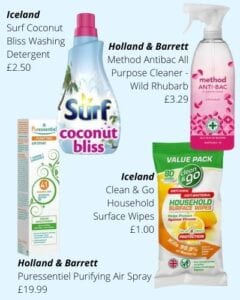 Time to declutter
Now you've got all your surfaces cleaned and fresh-smelling, a bit of reorganising and decluttering is your next job. Fed up with tripping over the kid's shoes? Clear your hallway with this handy shoe organiser from Wilko which fits neatly inside a wardrobe, leaving you with a spacious hallway once again. Sometimes simple storage is best and Bargain Buy's have a great range of plastic storage boxes, ideal for the home office or loft to keep all your items secure and dust-free.
Even the smallest of things need reorganising, and make-up is no exception. Pick up this cute pink make-up storage basket (Bargain Buy) and pop your everyday make-up essentials in so they're easily accessible.
Got endless amounts of magazines in the living room? Place them in this handy basket from Wilko's, the natural seagrass fabric gives off real boho vibes within your living space making your storage look effortlessly chic!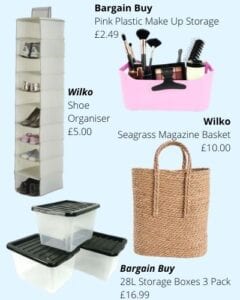 Home décor lift
Once things are looking tidier, it's nice to add some fresh homely touches to your home, to lift and brighten things up. Add a personal touch to your living room with Card Factory's personalised family tree cushion, in a neutral colour to go with any interiors.  Bring spring into your home with the scent of wild citrus with these candles (set of 2, Card Factory) and embrace the sweet-smelling aroma.
For the bedroom, why not treat yourself to a new set of fresh sheets such as this Ochre duvet set from Tesco. This beautiful design will bring a breath of fresh air to your room and make you wake up with a spring in your step.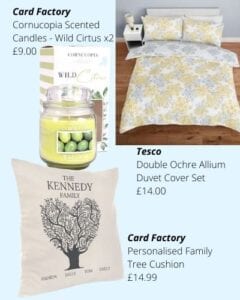 Garden TLC
Last, but certainly not least, is outdoor space, which we hope to be using more often now warmer weather is approaching. Add some sophistication to your patio with Wilko's pack of 2 tall planters, add these solar lights from Bargain Buy and see your outdoor space light up with a soft glow as night falls.
If you have a green thumb don't forget the tools for the job – potter about the garden with these outdoor gardening gloves (Wilko), just what you need for your gardening chores.
After a hard day's work in the garden, spend the evening sitting back and soaking up your surroundings and light these stunning citronella pillar candles (Wilko), to keep those pesky bugs away.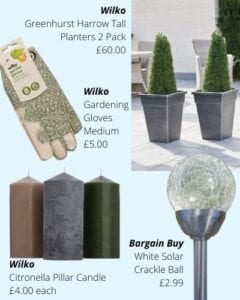 For more of our favourite seasonal products from our stores, visit our Pinterest page here.
Prices correct at the time of publishing.