The third lockdown feels like it has lasted forever and, if you're anything like us, you've been counting down the days for when (so-called) non-essential retail re-opens their doors and welcomes us back with open arms.
Oh, how we have missed the days of browsing the latest fashion collections, perusing the sale racks and just generally indulging in a bit of retail therapy with friends in tow.
Those days are now over as we have jumped the last hurdle, so to get you all excited we have picked our favourite products from the Spring/Summer collections of our beloved non-essential retailers, putting a spring in your step for when you walk through their store doors here at Cannon Park.
Fashion, how we have missed you…
Calling all ladies, 2021 Spring/Summer fashion trends are a breath of fresh air as we plan to ditch the loungewear and embrace life – and colour! Occasionwear had no place in 2020, but now it is back with beautiful dresses, full skirts and ruffles.
As event invites start reappearing through our letterboxes and inboxes, this Peacocks monochrome midi dress with floaty sleeves and hem detail is perfect for those special occasions.
This season's hottest colour is pink and, from punchy shades like this EMME Ranch jumpsuit from Sports Direct – one for those who brave to embrace the pink trend and go head-to-toe, to subtle pastels such as this simple Firetrap ribbed dress (also Sports Direct), there is a pink to suit everyone.
If pink really isn't your colour, try these soft pastel blue wedged espadrilles (Peacocks), these versatile summer shoes are perfect to pair with a midi dress or dress them down with jeans, either way, your outfit will scream sophistication.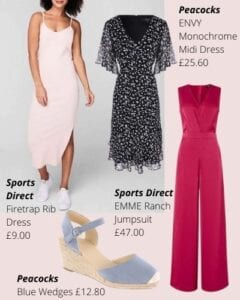 It's always shorts weather!
Menswear has also had a new lease for life for 2021! Gone are the days of boring sweats and instead it's hello to chino shorts. These chino shorts from Peacocks are made from breathable cotton and come in a range of subtle shades.
We particularly love this powder blue, a colour flattering to all skin tones – team them with a statement shirt and you'll be hitting top fashion marks. And behold the bucket hat, a top trend this year as seen on the runways at Vivienne Westwood, Versace and Celine! This relaxed, low-key look will suit all outfits.  If you're unsure, try the Kangol white bucket hat from Sports Direct, a simple design that we're sure will get you hooked to this trendy fashion statement.
Want an understated outfit? Try adding these fresh, crisp white Adidas trainers (Sports Direct) for an effortlessly cool look. Who said you can't barbeque and look good at the same time!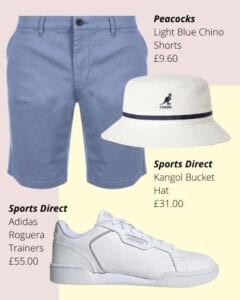 Time to escape!
Another relatable trend for Spring/Summer this year is 'escapism'. We may not be able to jet to faraway destinations just yet, but this doesn't mean our wardrobe has to be sacrificed. Peacocks have created a great capsule range for kids embodying holiday feels such as this simple boys cotton 2-piece set with its fun palm tree print shirt, team with these super cool sunglasses (Peacocks) and they will be set for any adventure.
Rainbows were a firm favourite in 2020 as a sign of solidarity and hope, which is why we are loving the colourful rainbow products seen across our stores, in particular this Peacocks rainbow slogan t-shirt and this adorable rainbow clutch bag from Sports Direct, a statement piece that all little girls will love to wear to those picnics in the parks with family and friends.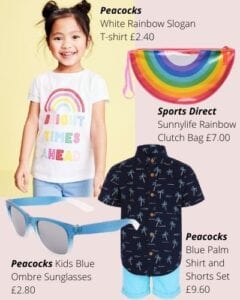 Bring spring inside!
As we update our wardrobe we mustn't neglect the home. Fill your home with the fragrance of spring using candles and reed diffusers that not only smell good but look good too. We love Card Factory's grapefruit and orange flower reed diffuser. Add some new spring cushions to the mix such as Peacocks botanical printed cushion and sit back, relax and enjoy an exotic feel to your home.
Preparing for those small garden gatherings? Serve your drinks in style with this set of 2 gin glasses (Card Factory) and raise a toast with your nearest and dearest. Whilst you've got everyone together, take some photos to capture these long-awaited precious moments and create a keepsake with one of Card Factory's personalised photo frames. We particularly like this one that fits 12 photos in a black or white frame. It will also make a great gift, with memories that will last a lifetime.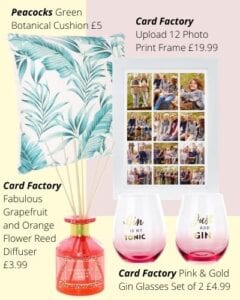 For more of our top picks from our amazing non-essential retailers, visit our Pinterest page here.
Prices correct at the time of publishing.