January always calls for something new, and if, like many others, you've decided to trial veganism this month (or beyond), there's plenty at Cannon Park to help you out!
Our stores and eateries have a wide selection of vegan-friendly products to help you take the steps towards making the change – big or small!
Read on to see our top picks to help you along your way through Veganuary.
Vegan Foodies – on-the-go
The initial idea of swapping to a vegan diet can seem a little daunting, but times have evolved and now there is a wide array of tasty plant-based foods and drinks to choose from, making the transition an easy one. From Gregg's popular vegan sausage roll and Subway's plant patty wrap to Costa Coffee's delicious oat milk latte, you can still have your favourite treats on-the-go without too much compromise.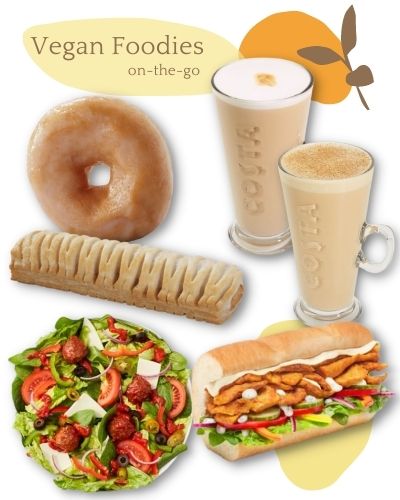 Products featured (clockwise):
Costa Coffee The Energiser Vanilla Latte with Vitamin B12 & Zinc
Costa Coffee Chai Latte
Subway T.L.C Tikka Sub (Tastes.Like.Chicken)
Subway Meatless Meatball Marinara Salad
Greggs Vegan Sausage Roll
Greggs Glazed Ring Donut
Vegan Foodies – at home
For those who like to learn new recipes, Tesco has a great range of vegan meals that you can rustle up for the whole family, such as their Vegan Meatball and Tomato Spiced Curry. And if you need a helping hand planning your weekly plant-based meals, have a go at their useful quiz here to see which meal planner will best suit you.
Being vegan doesn't mean every meal has to be cooked from scratch – oh no! Iceland has a great selection of frozen foods from No Moo Ice Cream, Fish-Style Fillets to Kebabs Doner Style and a whole range of Gregg's vegan favourites – Yum!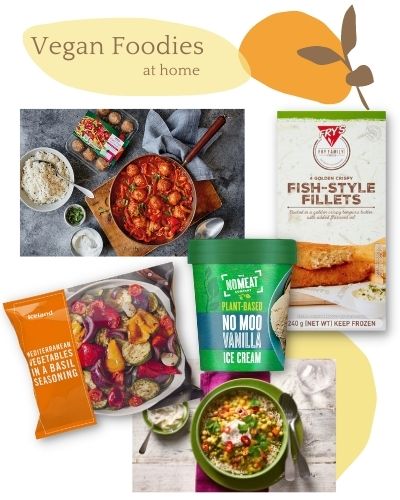 Products featured (clockwise):
Iceland Fry's 4 Golden Crispy Fish-Style Fillets 240g £1.50
Iceland No Meat No Moo Vanilla Ice Cream 500ml £2.50
Tesco Plant Chef Chickpea Korma Recipe
Iceland Mediterranean Vegetables in a Basil Seasoning 500g £1.75
Tesco Vegan Meatball and Tomato Spiced Curry Recipe 
Vegan Beauties
Veganism has taken over the beauty industry in recent years, with top high street and luxury brands now making a conscious effort to be more environmentally friendly. We are now seeing natural ingredients fill our beauty cabinets from make-up, perfumes, bath salts and moisturisers.
When you're next picking up your beauty essentials, why not make the change and try out one of our top vegan beauty products.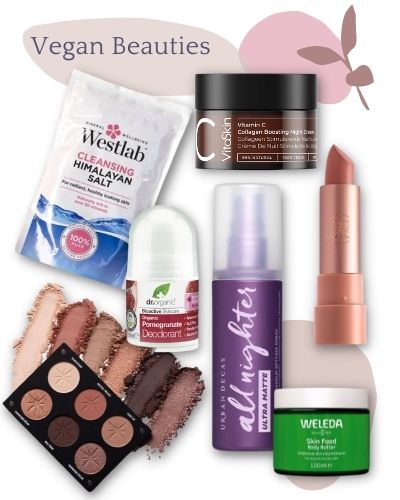 Products featured (clockwise):
Holland & Barrett Vitaskin Vitamin C Collagen Boosting Night Cream £15.00
Boots Anastasia Beverly Hills Satin Lipstick £21.00
Boots Weleda Skin Food Body Butter £18.95
Boots Urban Decay All Nighter Setting Spray Ultra Matte £26.00
Boots Inglot Paradise Wild Eyeshadow Palettes £20.00
Holland & Barrett Dr Organic Pomegranate Deodorant 50ml £5.99
Boots Westlab Himalayan Bath Salts £2.49
Vegan Wellness
Now, even though you may be eating more fruit and veg, that doesn't mean you can push those vitamin bottles to the back of the cupboard. You're body still needs that extra oomph and there is a whole load of vegan alternative vitamins for your hair, skin, nails, immune system and much more to try.
If you're into the whole fitness vibe, you can even swap your protein shakes to plant-based options that are super tasty and still get you the gains.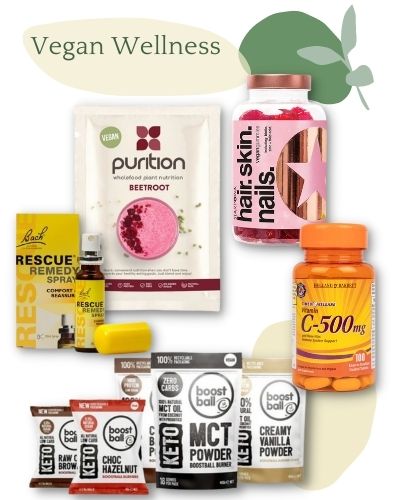 Products featured (clockwise):
Holland & Barrett Starpowa Hair, Skin and Nail 60 Gummies £39.99
Holland & Barrett Vitamin C Timed Release with Rose Hips 100 Tablets 500mg £2.25
Boots Boostball 2 Week Keto Starter Kit Bundle £90.00
Boots Bach Rescue Remedy Spray 20ml – Comfort & Reassure Flower Essences £11.00
Boots Purition Wholefood Vegan Plant-Based Nutrition – 40g £2.99
If you need more inspiration, check out our Pinterest board here for vegan-friendly products available within our stores at Cannon Park.
Prices correct at the time of publishing