With sunnier days on the horizon, it's time to plan for barbeques and get-togethers with family and friends 'alfresco'.  Start your summer off with a bang with our inspirational blog:
Dress the Part
Pack away those raincoats and wellies, and pull out your summer wardrobe, refreshed with a few new season purchases from Cannon Park retailers. Kit out the whole family with some essential pieces, like boy's flip flops from Sports Direct. These Havaianas are super comfy, your little one will feel like they are walking on air.
If the man of the house likes to think of himself as the barbeque king, let him cook in comfort in these Firetrap chino shorts – available from Sports Direct. In its neutral stone colour, it is the perfect pairing with any bright, summery shirt.
Little girls will love playing outside in this cute floral playsuit from Peacocks – perfect for dancing around in the sun!
As the sun draws in don't forget to have something at hand to beat the evening chill. Peacocks coral cardigan with its pretty lace trim will do the trick and keep you warm right into the night.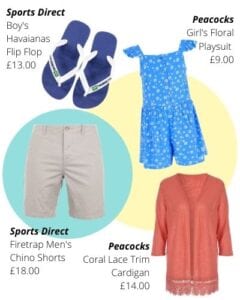 Don't forget your accessories! Pack a backpack for the kids with some games and treats to keep them occupied. There is a great selection of girls' backpacks from Sports Direct, such as this neon green Nike mini backpack. For the boys, camouflage is always a good shout, this Peacocks trendy bag is just the right size for an adventure.
Protect yourself from the glare of the sun with this elegant frayed edged boater hat (Peacocks). Sunglasses are essential for a sunny day, these popular men's Puma sunnies (Sports Direct), are a classic style that never goes out of fashion.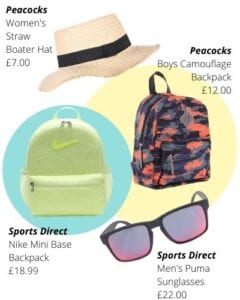 Garden Party Decor
Create an inviting space outdoors with some simple touches. Add some soft seating where kids can chill, Wilko's scatter cushions are perfect for a kids corner, we especially love the bright stripe pattern for a playful vibe.
You can never have too many plants in your garden, so why not add some artificial plants to your table décor like this algave potted plant from Wilko?  Add some soft lighting to your garden with citronella candles from Bargain Buys, these candles will not only keep the bugs away but will also fill the air with the scent of lemons – yum!
It isn't a true English party without some family games.  This traditional game is perfect for all ages and with the garden quoits set from Sports Direct it is so easy to set up, you'll be having fun in no time.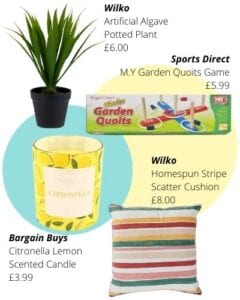 Ready to Entertain
As your guests arrive, greet them with a welcome drink. Impress with a Holland & Barrett mocktail recipe, our favourite is the Ginger and Lemon mocktail with sparkling mineral water (Tesco), tastes so good and your guests wouldn't even know it's alcohol-free!
Now it's time for the main event – it's barbeque time! Set up your cooking station with the right tools for the job, Wilko's charcoal BBQ oil drum has a large grill area with the bonus of a warming rack to keep your food warm – ideal when catering for larger parties. Add some new utensils to help you flip those burgers, Tesco's 3 piece BBQ set is a bargain at £2.50.
Fancy tantalising your guest's taste buds? These pre-prepared Iceland pepper and king prawn kebabs are so tasty and cook under 10 minutes, perfect for any ravenous horde!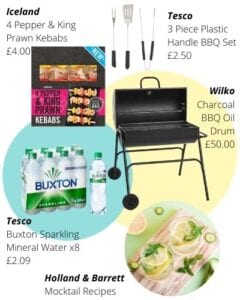 However you decide to get together with family and friends, we hope our top tips have inspired you to get outside to soak up some much-anticipated sun. For more items to get you excited for barbeque season, visit our Pinterest board here.
Prices correct at the time of publishing.