As always, the school holidays are flying by; and now it's time to start thinking about the 'Back to School' shop! Don't leave things until the last minute; avoid the rush and let Cannon Park lend a helping hand.
We have carefully selected some top products to help with new starters at school, up to older students.
Keep on reading to find out our suggestions for your kid's school bag, ready for the new term.
Packed and Ready
First things first, the kids will need a new backpack. You can find some fantastic, on-trend backpacks here at Cannon Park without breaking the bank.
For reception years we adore this cute unicorn backpack from Boots and for the older ones, you can't go wrong with a Nike backpack – we love it in the vibrant red (available from Tesco's).
Next on the list is a pencil case. Wilko's have a wide range of pencil cases to suit all tastes and ages, like the colourful rainbow one below.
If your children walk to school, why not pick up an umbrella to keep them dry. Peacocks have an array of bright umbrellas to choose from. We particularly love this cute pink Trolls design; it might even make them keen to get out of the front door on a rainy day!
Now, we know most kids scuff their school shoes regularly or get them unbelievably muddy! Pick up this Kiwi Shoe Polish for only £1 at Wilko and teach them how to clean their shoes. Let them walk to school in pride, looking smart from head to toe.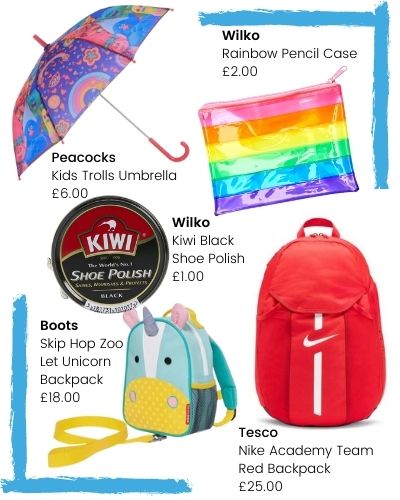 Stationery Lovers
The best thing about starting school is choosing new stationery. Nothing feels better than writing in a fresh, crisp notebook.
Card Factory is a great place to go for stationery on a budget. Why not get your kids a personalised notebook and younger children may prefer this fun 'reach for the stars' stationery set, including a ruler, character pencils and notepad.
For the mathematicians, this Casio Scientific Calculator from Tesco is a must-have for their math's lessons.
Those children starting their GCSE's or college, help them organise their course work and projects with these handy A4 button wallets (Wilko).
It's never too early to revise! Wilko's revision cards are great for all ages, from early years learning how to spell up to college students revising for their exams.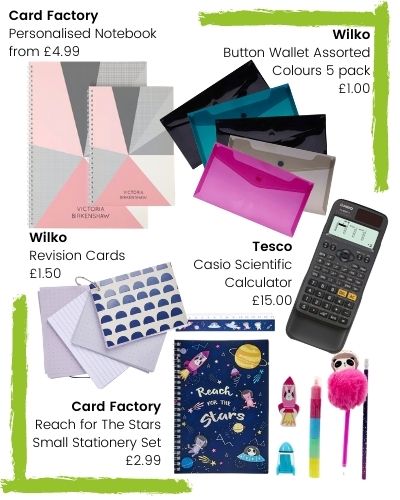 Lunch Time
Time to refuel and refresh, ready for the afternoon lessons. Make sure they have all they need to make their lunch a happy and healthy one.
Keep their lunch cool in this insulated compartment lunch bag (Tesco), we love this gorgeous Minnie Mouse design.
Tesco's Sistema Bento box is ideal for older children, featuring multiple removable compartments and available in 3 colours – pink, green and blue.
Hydrate, hydrate, hydrate! Pick up this cool Skinny Dip insulated metal bottle from Boots; with its cute peach print, we are sure they won't forget to drink water throughout the day.
For some snacks to add to their lunch, head to Iceland who has a great selection. The Cathedral City mini cheeses are perfect for a savoury snack. In need of a little sweet treat? Why not pack them a mini chocolate chip muffin (also Iceland).
Holland & Barrett also have a range of healthy treats to add to their lunch box, why not let them try the Nature Valley bars? Our favourite is the oats and dark chocolate – so yummy!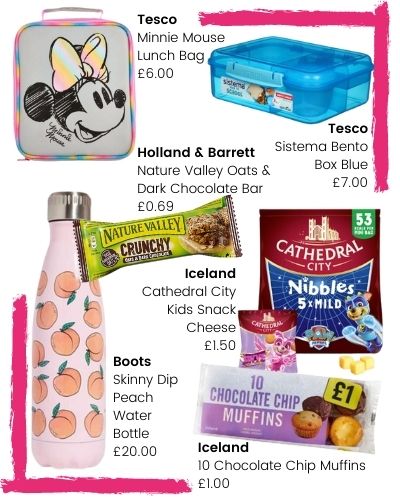 We hope the big 'Back to School' shop is a success for you and your children. If you need more inspiration, head on over to our Pinterest board here to view more products selected from our fantastic retailers.
Prices are correct at the time of publishing.